How Investors Can Play the Fidget Spinner Craze
"How Investors Can Play the Fidget Spinner Craze"
in the news How Investors Can Play the Fidget Spinner Craze? What this all about..... See below.
------------------------------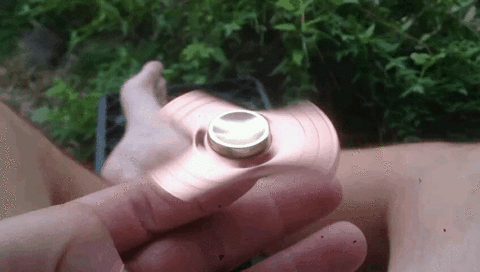 Sentiment Trader sees
The fidget-spinner trend keeps growing, and that could be good news for discount retailer Five Below. $five
Fidget spinners -- little rotating toys said to help increase your focus -- have taken off with kids in the last few months. Social-media data suggest the trend still has legs. In fact, the volume of social discussion around spinners is still accelerating, says Chris Camillo of TickerTags, a firm that analyzes social-media sentiment for potential stock impacts.
Up until recently, retailers have been fairly short on supply of the devices, which sell for a few bucks. Five Below is among a handful of big-name bricks-and-mortar stores where you can buy them.
How Investors Can Play the Fidget Spinner Craze
The goal for Five Below has always been to just get people in the door. "Once you get in the store, it's a bit of a treasure-hunt environment, and it's hard not to leave the store with a lot of things," Camillo tells us. Shoppers are "going in for fidget spinners, but probably leaving with 10 other things."
Yes, you can buy the spinners through Amazon and other online outlets, but Camillo says there's "plenty of demand to go around." He points to Twitter reports of lines forming outside Five Below stores, which typically get a few hundred in inventory at a time and sell out the same day. The company just started selling light-up spinners, a move that gives people a reason to return to the store, even if they already have regular spinners, Camillo says. Kids tend to want multiple kinds of the toy.
In the past, when trends have fallen within Five Below's typical $1 to $5 price range, the company has benefitted. Management called out the impact of adult coloring books and Shopkins toys on sales in the past. This time around, Five Below looks to have two trends on its hands at the same time. Do-it-yourself slime, made using Elmer's glue, is still popular with kids, Camillo says, though the trend is leveling off somewhat.
Both slime and spinners could show up in Five Below's results for the most recent quarter, which ended in April. The company releases those on June 1.
Big Picture: Social-media mentions of fidget spinners are heating up, which could mean good news for Five Below.
DON'T MISS OUT ON OUR HOTTEST updates Click the link below....